LapBuddy - World's Most Compact Laptop Stand
LapBuddy - World's Most Compact Laptop Stand
Regular price
Rs. 3,499.00
Sale price
Rs. 2,239.00
Poeple
are viewing this right now
Get it between
Jul 03
-
Jul 09
Guaranteed safe & secure checkout
Adjust your laptop height to get the most comfortable viewing and sitting position to prevent back, avoid neck and wrist pain
Almost 67% people over the age of 40 has back problems
due to poor posture. Let me ask you how much is your health, posture and well being is worth to you??
Get the perfect posture and
reduce eye, wrist, back and neck strain
with the Laptop Stand. Also, you can carry this laptop stand anywhere for business or travel trip.
Six Level Angle Adjustment
Designed with 6 levels of angle and suitable for laptops up to 16 inches and most of the tablets.

Ergonomic Design
The most comfortable viewing position to prevent back, neck and wrist pain.

Foldable and Portable
Folded size with 1.4cm thickness only and it comes with carrying storage bag for easy carry anywhere for business tour or trip.
Non-Slip
Non-slip silicone pad to better protect your device from sliding or scratching while in use.
Premium Shiny Look
This Laptop Stand is made from premium aluminium alloy material which gives it a premium shiny look.
How To Use
Step 1: Open the stand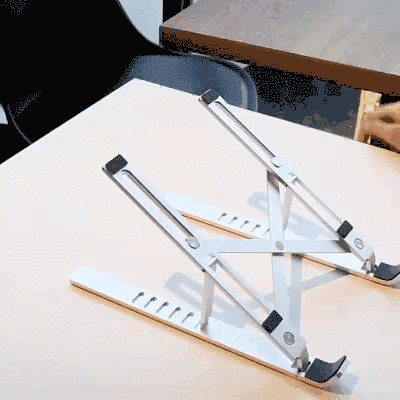 Step 2: Adjust the elevation to desired height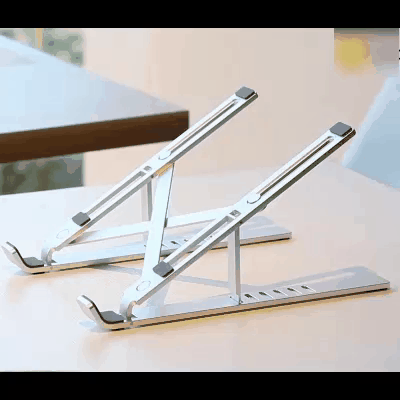 Step 3: Place your laptop on the stand and enjoy a healthy posture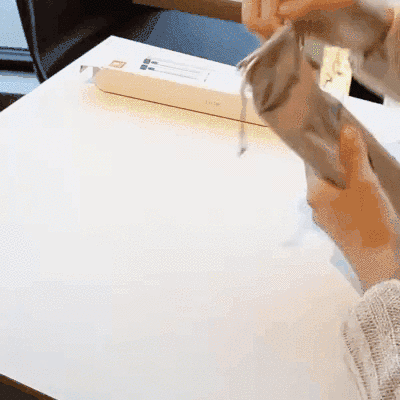 Everyone knows that poor posture is bad for long term health. If you're in front of a screen all day or do lots of physical activities, chances are you suffer from slouching and poor posture.
When poor posture is not fixed, it slowly leads into more problems. Some common problems that result from poor posture are: Headaches, Muscle Fatigue, Body Aches, Back Pain, and Poor Focus.
This laptop stand is guaranteed to improve your posture within 2 weeks 
WILL MY LAPTOP FIT ON THIS?
Yes, all laptop six will properly fit on this
Similar products
Customers who viewed this item also viewed
Great Product! Took a while for it to come through, but amazing product.

(Bought Magic Broom)

Sanvi Mittal
Well Packed!! Fully charged! Blackhead from the nosed sucked correctly.

(Bought Derma Suction)

Arpit
In a word , just WOW. Lovely experience of shopping on awesome store.

Aaradhya Gupta
Share blog posts, products, or promotions with your customers. Use this text to describe products, share details on availability and style, or as a space to display recent reviews or FAQs.

Author's name